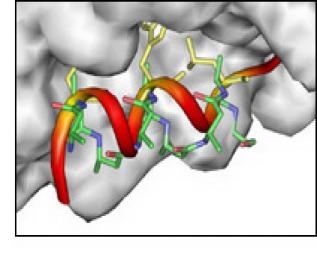 Yale Graduate Studies in Chemical Biology combine the strengths of selected faculty from the departments of Chemistry; Molecular, Cellular & Developmental Biology; Molecular Biophysics & Biochemistry; and Pharmacology.
Faculty listings
Students participating in CBI Graduate Training Program at Yale University are trained by faculty whose research programs emphasize chemical approaches to study biologically important problems. Students receive interdisciplinary research experience that includes the study of natural product and combinatorial synthesis, protein folding and design, nucleic acid recognition and catalysis, and cellular biology. This training extends across the traditional boundary between chemistry and biology. Students are trained in methods that include molecular cloning, kinetic and thermodynamic measurements, NMR and mass spectrometry, synthetic organic chemistry, protein purification, and molecular modeling.
Interaction and collaboration between the students and faculty in the Chemical Biology Training Program are facilitated by a core instrumentation facility housed within Yale Chemical Genomics Center, Yale Chemical Instrumentation Core and the Yale Center for Structural Biology. Students are trained to think in chemical detail about biological phenomena, to design and synthesize molecules, and to describe macromolecular function in the language of chemistry. Faculty members in Chemical Biology Graduate Studies emphasize four major research themes covering the spectrum from bioorganic chemistry to molecular cell biology:
Faculty by Interest:
Chemistry and Chemical Biology: Chemical Diversity, Natural Product Mode of Action, and Organic Synthesis
Nucleic Acids: Catalysis, Recognition and Role in Biosynthesis
Proteins: Design, Recognition, Function and Characterization
Cell Biology/Protein Biochemistry of Intracellular Processes
Faculty in Alphabetical Order:
Karen Anderson (Proteins)
Richard Baxter (Proteins & Cell Biology)
Anton Bennett (Cell Biology)
Demetrios Braddock (Proteins)
Ronald Breaker (Nucleic Acids)
Craig Crews (Chemistry & Proteins)
Enrique De La Cruz (Proteins)
Jonathan Ellman (Chemistry)
Paul Forscher Cell Biology)
Jo Handelsman (Cell Biology) Unavailable for rotations this year. 
Seth Herzon (Chemistry)
Mark Hochstrasser (Cell Biology)
Art Horwich (Cell Biology)
William Jorgensen (Proteins)
Elias Lolis (Proteins)
Chinxiang Lin (Cell Biology)
Pat Loria (Proteins)
Scott Miller (Chemistry)
Yorgo Modis (Proteins)
Mark Mooseker (Cell Biology)
Andrew Phillips (Chemistry & Cell Biology)
Tom Pollard (Cell Biology)
Lynne Regan (Proteins & Cell Biology)
Elizabeth Rhodes (Proteins & Cell Biology)
Alanna Schepartz (Chemistry & Proteins)
Joseph Schlessinger (Cell Biology)
Matthew Simon (Proteins & Nucleic Acids)
David Spiegel (Chemistry)
Scott Strobel (Nucleic Acids)
Ben Turk (Cell Biology)
Yong Xiong (Proteins)
Elsa Yan (Chemistry & Proteins)